09/11/2018
The ARRL Headquarters Emergency Response Team will activate on Wednesday, September 12, ARRL Emergency Response Manager Mike Corey, KI1U, has announced. The team already has taken some steps to help prepare Amateur Radio Emergency Service (ARES) groups in advance of Hurricane Florence, poised to strike the US east coast along the Carolinas and Virginia.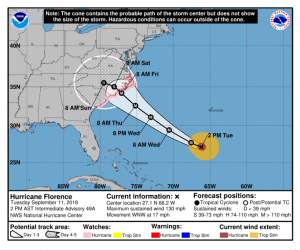 ARRL will ship seven Ham Aid kits to South Carolina by way of Georgia today (September 11) to assist with emergency preparedness needs in advance of Hurricane Florence. The kits will fly out of Hartford to Atlanta, because airports in South Carolina are already closed with flights suspended. ARRL Georgia Section volunteers have agreed to get the kits to South Carolina for delivery to the state emergency operations center (EOC) in Columbia, South Carolina. These kits are the same ones that ARRL volunteers took to Puerto Rico a year ago to assist with disaster communications following Hurricane Maria.
"Amateur Radio emergency networks, including those connected to the National Hurricane Center, are active and ready to assist first responders and others with their communication needs before and after Hurricane Florence impacts the Carolinas," ARRL said in an announcement. "In addition, they continue to monitor activity in order to respond when needed during the 2018 Atlantic and Pacific hurricane season." Ham Aid kits also may be deployed to Virginia.
The Hurricane Watch Net (HWN), now at Alert Level 3, is closely monitoring three systems: Hurricane Florence, Tropical Storm Isaac, and Invest 95L, currently in the Gulf of Mexico. The net will activate on Wednesday, September 12, at 1500 UTC, as Florence closes in on the US east coast. The net traditionally uses 14.325 MHz during daylight hours and 7.268 MHz after dark. "With propagation being extremely poor to nonexistent on 20 meters, we may be forced to operate on both bands simultaneously," HWN Manager Bobby Graves, KB5HAV, said this week.
"Prior to or shortly after landfall, Florence is forecast to slow in forward speed, reminiscent of Hurricane Harvey of last year," Graves observed. "This stalling will bring a double whammy…extended time with hurricane and tropical force winds and torrential rainfall. Florence is expected to produce total rainfall accumulations of 15 to 25 inches with isolated maximum amounts to 30 inches near the storm's track over portions of the Carolinas and the Mid-Atlantic States from late this week into early next week. This rainfall could produce catastrophic flash flooding and significant river flooding."
WX4NHC at the National Hurricane Center (NHC) will activate at 2200 UTC today, remaining up through Friday, September 14. When WX4NHC activates, it will operate cooperatively with HWN as net stations funnel ground-level reports to the Center. WX4NHC will monitor the HWN and the VoIP Hurricane Net (VoIPWX) on EchoLink Conference WX-Talk, node 7203 or IRLP 9219.
The NHC says Hurricane Florence is getting better organized and increasing in size, with a "life-threatening storm surge possible along the coasts of North and South Carolina, [with] inland flooding to follow."
The storm was some 370 miles south-southwest of Bermuda and about 845 miles east-southeast of Cape Fear, North Carolina, as of 1800 UTC on September 11. Florence is packing maximum sustained winds of 130 MPH, making it a dangerous Category 4 hurricane. It is heading west-northwest at 17 MPH.
SHARES will maintain watch on its Northeast Region (FEMA Regions 1, 2, and 3) and Southeast Region (FEMA Region 4) nets starting at 2100 UTC on Thursday, September 13, and on its National Net channels starting at 1200 UTC on Friday, September 14.
The Salvation Army Team Emergency Network (SATERN) has announced plans to activate for Hurricane Florence from 1700 through 2100 UTC on Thursday, September 13, on 14.265 MHz with a backup frequency of 14.312 MHz. It will reactivate on Friday and Saturday at about 1600 UTC until propagation no longer supports it or the Net Manager closes the net for the day. SATERN may extend its activation depending on reports of major damage, especially to the communications infrastructure; continued significant emergency, priority, or health-and-welfare traffic, as well as reports of an increased need for auxiliary communication. The net's primary mission will be the receipt and delivery of outbound health-and-welfare messages from affected areas. The Salvation Army is beginning to stage personnel and equipment in major deployments to North Carolina and Virginia.
The ARRL Pacific Section is preparing for activation to support a response to Tropical Storm Olivia. ARRL deployed seven Ham Aid HF kits to Hawaii for Hurricane Lane, and these will remain in Hawaii through the remainder of the hurricane season. Amateur Radio operators on Guam are active supporting response to Typhoon Mangkhut.
AMSAT-NA has announced plans to AO-92 to attempt to image Hurricane Florence. AMSAT Vice-President of Operations, Drew Glasbrenner, KO4MA, said on September 11 that plans call for using the camera on AO-92 to try imaging Hurricane Florence during North American east coast passes on Thursday, September 13, and Friday, September 14. AO-92 will not be in U/V FM voice transponder operation during these passes. Ground stations should standby and not attempt to access AO-92 during this period. The high-speed image data will be transmitted on a downlink frequency of 145.880 MHz and can be captured, decoded, and uploaded to the Fox-1 data warehouse using FoxTelem version 1.06 software.